Professional development
Periodic (at least once in 5 years) upgrading and retraining is required of the faculty members at the Belarus State Economic University, which is aimed at the renewal and replenishment of professional skills and general educational level of the staff.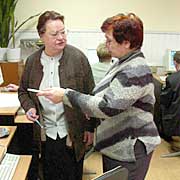 Doctorate, post-graduate study, competition for a degree, study at other higher educational institutions, skill improvement centers or faculties; work on probation at enterprises and scientific research institutions, work for other organizations, state establishments and educational establishments; an opportunity to be trained as part of TEMPUS/TACIS project in which the University is involved; participation in republican and international conferences; work on monographs and writing of other instructive and resource materials; participating in departments' and interdepartmental theoretical and methodological seminars; other forms are traditionally used at the University as the organizational forms of experience gaining and skill improvement for the scientific-pedagogical staff.
The choice of a program for qualification improvement for each faculty member is based on scientific interests of a department, the University or inter-university projects or, maybe eventually, attendance to research projects of the republican level. Mastering of new technologies and gaining knowledge in specific production spheres is always of great importance. Qualification improvement is usually conducted while discontinuing usual staff duties.
Young staff members, who have little practical experience, they usually work on probation at the industrial objects directly , those enterprises correspond to the specifics of their teaching responsibilities.
Faculty members with the experience in pedagogy less then 5 years have to take classes at the School of Psychological and Teaching Updating.
Reports on the qualification improvement and its influence on the process of instruction and teaching, methodological and scientific research are discussed at least once a semester at department's professional meetings.