THE "ECONOMIST" CLUB
The "Economist" Club is a social organization supported by the Belarus State Economic University. The organization is non profit and voluntary. It began its activities on January 25, 1997. The Club's president, appointed by the Rector, heads this organization. At the moment, professor S. P. Gurko is the president of the Club. The Board of the Club is headed by the executive director. The Board conducts the organizational and routine work. The Club's activity is discussed and approved by the members. The "Economist" Club activity is in close cooperation with the plans of the Professional Labour Union.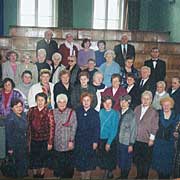 The main objectives of the Club are in the performing of active creative social work, providing social help, psychological adaptation help for the veterans and the retired of the University. The social work is a means of support against aging, worsening of their health, loss of close relatives, phobias, other stress conditions. The Club's goals include as well participation in the social life of the University.
The members of the "Economist" assist in the conducting of traditional meetings of secondary school leavers at local schools with the University's veterans, meetings of the University's students with the Veterans of Labour. The activists share their lives' experience with the youth, tell them the stories of their heroic past, describe their long working careers, talk about the years of protecting our Motherland. The members of the "Economist" also invite those who helped to create the history of Belarus economy to their parties. The Club's fruitful work is of much help. Competent advice at the time of choosing a career, upbringing of the feelins of pride for profession, strengthening of patriotic love of Belarus, the acquaintance of nowadays students with the life and studying traditions of previous generations, developing of the feelings of students' solidarity and friendship are invaluable.
Meetings with the experienced lawyers and economists are organized regularly.
Bards, poets, writers (members of the Writers' Union of Belarus), the authors of popular manuals and articles, the folk artists, amateur performance groups appear at the meetings of the Club members. The members of the Club make amateur performances themselves, as well as the children dancing group "Charodey" are regular guests there. The amateur choirs and ensembles of other higher educational establishments, of other enterprises are often the guests in the Club's meetings. Sometimes small exhibitions of applied arts, other exhibitions are organized by the Club.
Guests from other universities, members of veteran organizations, radio and TV show people, BSEU graduates often visit the Club.
The regulations of the "Economist" Club state that the staff and their families, students, competitors for a degree in science, pensioners, specialists in the sphere of economics can become members of the Club.
The Club invites you to participate in its activities in hope that they will bring kind action and high spirit to all. The Club is ready to share its experience, plans for further work with many.