University today!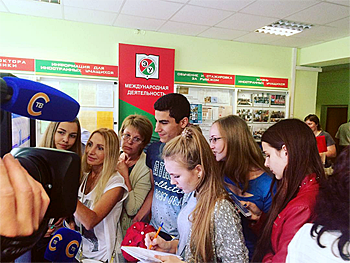 Founded in 1933, the Belarusian State Economic University (BSEU) is the country's leading institution of higher education in economics. The university uses its potential based on the best national and international experience to meet the intellectual, cultural and social needs and interests of Belarusian society and the state, contributes to the sustainable development of Belarus.
The university offers a wide range of specialties in economics, management, law and communications through the following educational programs:
secondary specialized education in 9 specialties (8 are accredited);
higher education of I level on 33 specialties;
higher education of II level in 9 specialties including preparation in English;
postgraduate education in 15 specialties (post-graduate students are trained in 15 specialties, doctoral students in 6 specialties);
retraining of managers and specialists with higher education in 12 specialties;
advanced training in two specialties.
The University is included in the list of educational institutions on which basis the experimental and innovative activities are taking place with the organization of training in English within higher education specialties of I level "World Economics" and "Accounting, Analysis and Audit".
BSEU uses the latest technologies in education including distance educational programs, project-based method and digital technologies. The educational projects "University 3.0" and "Digital University" have been initiated aimed at revealing individual abilities of a student and his personality, selection of disciplines and transition to individual study periods for individual courses, creative self-realization of students, development of critical thinking and creative abilities.
There are about 70 doctors, professors and more than 400 candidates of sciences, associate professors who teach the students of Belarus and neighboring countries with the use of the textbooks and manuals of their authorship.
The Academic and Methodological Union for economic studies is established at BSEU:
development and improvement of educational standards of higher education, model curricula for economic specialties and model curricula for academic disciplines;
consideration of the questions considering the awarding of the academic stamp "Recommended by the Academic and Methodological Union for economic studies" to textbooks, manuals, other types of educational publications;
consideration of proposals for amending the National Classifier of the Republic of Belarus "Specializations and Qualifications";
participation in consideration of the issues of opening training on economic specialties, preparation of the conclusion about expediency of opening training on economic specialties;
participation in development of draft legal acts, preparation of analytical, reference, informational and methodological materials aimed at provision of implementation of the state policy in the sphere of higher education;
recommendations in improving the educational process, organization of experience exchange between higher education institutions.
Infrastructure
The infrastructure of BSEU consists of 12 faculties including the Higher School of Management and Business and the Institute of Social Science and Humanities Education, 49 departments the Professional Development in Economics Institution, the Institute of Masters Programs, branches: Minsk Commerce College, Minsk Financial and Economics College, Novogrudok Commerce and Economics College; the Library, educational and research laboratories, commercial complex, support services.
The university has all conditions for accommodation of nonresident and foreign students. The Student Campus consists of 9 dormitories. Each of them has facilities for self-study, rest rooms, hobby groups and clubs, rooms for sports with professional equipment, furniture and utensils.
There is the Sports and Health Center at the university with 5 sports and 2 exercise rooms, 16 sports rooms, 2 outdoor sports areas, aerobics, wrestling, table tennis and a swimming pool.
In addition, young people can improve their talents in the Students' Club groups in areas such as singing, choreography, instrumental art, theater, design art.
Science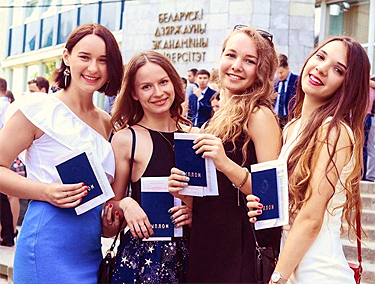 BSEU is a large center of fundamental and applied scientific research on the problems of national and world economy, law, and is certified as a scientific organization.
The high potential of the University, its modern research base allows to provide quality research and training of researchers of the highest qualification.
Three doctoral dissertation councils are created and work successfully at BSEU, in which 88 dissertations have been defended over the past five years. .
As a center of economic science of the country BSEU gives to national and foreign scientists an opportunity of scientific discussion on the pages of authoritative magazines of the University: "Belarusian Economic Journal", "Vesnik of Belarusian State Economic University", "Accounting and Analysis" and the annual "Scientific Works of BSEU".
Under the guidance of famous scientists, there are functioning 10 scientific-pedagogical schools, 33 student research laboratories. There is a student research center "BSEU Business Incubator" based on the Faculty of Commerce and Tourism Industry the Faculty of Economics and Management to support the innovative activities of students, the implementation of the best research projects and ideas.
BSEU e-Library is included in the ranking of electronic repositories Ranking Web of Repositories to support open access to scientific publications and educational materials in electronic form.
On February 2022, BSEU e-Library is in the top-100 of best repositories in the world (63rd place) and in the top-3 among repositories of Belarusian universities.
International activity
Today, more than 30 countries of the former USSR and other CIS states are involved in international cooperation with BSEU.
The University is a member of several international associations and unions: Eurasian Association of Universities, UNCTAD Virtual Institute, International Association of Teachers of Russian Language and Literature, International Association of Finance and Economics Education Organizations, European Retail Academy, Baltic Sea Region University Network. Annually, in cooperation with foreign partners, international projects and academic exchanges are held (ERASMUS+, DAAD and others).
BSEU has four "double diploma" programs with universities of Germany, Italy, Portugal and Russia.
According to the international ranking "Webometrics Ranking of World Universities" BSEU is in the first 20% of the world's best universities by webometric and bibliometric indicators.
Graduates
Every academic year our University opens its doors for new students and remains one of the most prestigious places to study in the country. Today the Belarusian State Economic University is a large educational, scientific and innovative center of the country.
Our graduates are all erudite specialists with fundamental knowledge and professional skills in Economics, Finance, Management, Marketing, proficient in modern informational technologies and foreign languages.
The university is one of the five largest universities in the country in terms of the number of students - about 17 thousand people study here every year. During the many years of its existence about 200 thousand specialists, who work both at home and far abroad, have been trained. Among the graduates of BSEU are heads of different ministries, like Economy, Finance, Taxes and Duties, Labor and Social Security, Transport, Trade and Forestry. Prominent state figures, academicians, heads of the largest banks and city-forming enterprises, businessmen and outstanding athletes have been given a start in life here.
The Belarusian State Economic University is the flagship of economic education in Belarus. The diploma of a BSEU graduate enjoys well-deserved respect, gives a good start and is a reliable support in life.