The Faculty of Commerce and Tourism Industry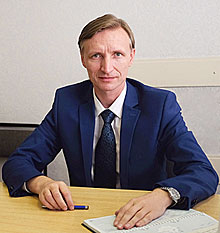 Dean:
Alexandr I. Yerchak
Ph.D. in Economics, Associate Professor
The Faculty of Commerce and Tourism Industry (FCTI) is one of the oldest faculties of the university. It was formed on 20.5.1933 simultaneously with the foundation of Kuibyshev Belarusian State Institute of National Economy named after V.V. Kuibyshev and reorganized on 30.06.2016 with the merger of the Faculty of Economics and Trade Management and the Higher School of Tourism.
Thanks to the preservation of traditions and the use of modern approaches to the organization of the educational process, the Faculty has trained more than 25 thousand highly qualified specialists for Belarus and other countries, among which there have been ministers and deputy ministers, statesmen, scientists, heads of large and small businesses, as well as entrepreneurs. Today, over 2000 full-time and external students are trained at the Faculty for the fields of trade, real estate, restaurant business, as well as the tourism and hospitality industry according to the educational standards of higher education in the Republic of Belarus.
Our values and priorities:
High quality of professional training

The training of economists is provided by the teaching staff of 6 departments of the Faculty, more than 70% of whom are Doctors and Candidates of Science. Practitioners and guest lecturers, including those from foreign higher educational institutions, are involved in teaching; meetings with the representatives of government and business bodies are organized at the Faculty.

The Faculty runs post-graduate courses which aim at facilitating the professional development of scientific and pedagogical personnel, transferring the experience of leading specialists, and creating conditions for realizing the potential of talented youth.

Four student's research laboratories - "Handal'", "Kommersant", "Tovaroved", and "Turanalitik" - successfully work at the FCTI. Students are included in temporary research teams when performing scientific research. Many students' research papers were awarded prizes at national and international competitions, and also at Olympiads.

Since 2016, the Faculty has been organizing the Annual International scientific and practical conference for students and young scientists "Modern Mechanism of Functioning of Trading Business and Tourism Industry: Reality and Prospects".

The scholarship of the President of the Republic of Belarus, the scholarship named after F. Skaryna, and the scholarship of the Council of Belarus State Economic University have been awarded to students for their high results in educational, research, and social activities.
Material and technical resources contribute to the high quality of students training. The Faculty is located in educational building No 5, in Minsk city centre at 7, Sverdlova Str. It has its classroom fund; assembly, fitness and gym halls; and a library, which allows high-quality training. The Faculty's laboratories and classrooms are equipped with modern computer equipment, multimedia training tools, Wi-Fi, and retail equipment. Students have an opportunity to work with computer databases and library collections. There is also a canteen and a coffee bar in the building.

The development of business skills and aptitudes

The Faculty of Commerce and Tourism Industry takes part in the implementation of the pilot project "Improving the Activities of Higher Education Institutions Based on the "University 3.0" Model" which involves the events of various formats aimed at developing business skills and stimulating student entrepreneurship.

The following units of innovative infrastructure have been created:

a students' scientific and practical business incubator of the FCTI, focused on the acquisition of practical skills and competencies in creating and developing one's own business;
an applied-research branch laboratory of antimonopoly and price regulation, regulation in the field of trade, which operates on the basis of the Department of Trade Economics and Services of the FCTI and ensures the strengthening of scientific relations of the Belarus State Economic University with the Ministry of Antimonopoly Regulation and Trade of the Republic of Belarus.

Numerous masterclasses, training, and workshops held at the FCTI are aimed at building business skills and competencies in the field of entrepreneurial activity. The students of the Faculty take first part in various competitions of business projects annually.

Practical orientation and relevance in the labour market

The Faculty of Commerce and Tourism Industry deals with business entities of the real sector of the economy. Meetings and round table events are held on a regular basis with specialists from the ministries and departments of the Republic of Belarus as well as with companies that take leading positions in the restaurant and tourism industry. The representatives of these organizations conduct masterclasses for students, interact with the departments of the Faculty, get involved in the work of the State Examination Commission, and assist in the admission of students to various types of placements and the subsequent employment of graduates. The FCTI takes an active part in the preparation and conduct of the Job Fair that is held annually.  
Several branches have been created on the departments of the Faculty basis. As part of the activities organized by these branches, professional practitioners take part in discussing and upgrading the content of the curricula, conduct training sessions, and supervise undergraduate student projects as well as organize various extracurricular activities.

The Development of International Cooperation

The Faculty makes a considerable contribution to the development of international cooperation between Belarus State Economic University and the universities of Italy, Germany, Estonia, Vietnam, Poland, Russia, and Ukraine.
The Faculty's students have an opportunity to take part in such international programmes as Erasmus+ and Student Mobility Exchange. Teaching staff of the FCTI serve internships and take part in academic exchange programmes.
International students (residents of People's Republic of China, Turkmenistan, Russia, Azerbaijan, Armenia, Georgia, Kazakhstan, Lithuania, and Tajikistan) study at the Faculty. Every year, a Week of Foreign Languages takes place at the university with their active participation.
Specialists from Vita-Salute San Raffaele University (Italy), the University of Cagliari (Italy), University of Tartu (Estonia), Plekhanov Russian University of Economics, Saint Petersburg State University of Economics (Russia), as well as the ambassadors and heads of missions from Italy, Switzerland and Gansu Province (P. R. China) are invited to lecture at the Faculty.

Creating opportunities for self-fulfilment and fostering corporate culture and traditions

While studying, students of the Faculty are provided with a variety of options for self-fulfilment. Students' self-regulation bodies (Student Council, Students' Labour Union, and BRYU) are actively engaged in University life.
FCTI students take an active part and win prizes in public, scientific, cultural, charity, sporting and many other events of university, republican and international levels.
As part of the development of students' self-regulation bodies, different projects have been implemented at the Faculty: student scientific society, science slams, inter-universities intellectual competition "Expertise Horizons". The "FCTI Workshop" provides students with an opportunity to attend various masterclasses, seminars, and practical courses given by outside speakers. Many students are involved in voluntary and charity work.
Great attention is paid to students sports. In different periods, Olympic champions and winners of the republican and international competitions studied at the Faculty: D. Domracheva, E. Altshul, V. Romanovsky, etc. At present, FCTI students are members of university and youth national sports teams which repeatedly win medal places.
The Faculty has its own symbols – a flag, an emblem, and a mascot. The Faculty follows its traditions, which are treasured and handed down from senior to first-year students.

The Faculty of Commerce and Tourism Industry trains specialists in the following specialities:

1-25 01 09 «Commodity research and product examination» (full-time course)
1-25 01 10 «Commercial Activity» (full-time and part-time courses)
1-25 01 13 «Economics and management of tourism industry» (full-time and part-time courses)
1-25 01 14 «Commodity science and commercial entrepreneurship» (part-time course)
1-25 01 16 «Economics and management in the real estate market» (full-time and part-time courses)