The Faculty of Marketing and Logistics– 25 years!
The faculty was formed in 1997. The faculty currently has more than 1 600 students, 50% full-time and 50% part-time. Each year the faculty graduates about 400 young professionals in the field of transport and warehouse logistics, marketing and advertising. Today the faculty is focused on strengthening of practical training of specialists, development of professional and scientific relations at the national and international levels, productive cooperation and building partnerships with representatives of Belarusian business, professional communities and graduates. Since 2021, all specialties follow new curricula that deepen current practical skills and use innovative ways of teaching.
Unique features
TDuring its existence, the faculty has graduated more than 10,000 people who work in various sectors and spheres of activity in the Republic of Belarus and abroad.
The learning process at the faculty involves experts from the real sector as part of master classes, development and solution of practical problems and cases, guest lectures, and practical classes at the branches of the departments. In 2021, the faculty organized the first Youth Environmental Festival "Greenfest 2021", in 2022 - the forum "Logistics of the Future 2022". The main aspects of improving the educational process at the faculty are: the use of innovative forms and methods of teaching, the practical orientation of Teaching sessions, holding significant student events in the field of marketing and logistics, the involvement of students in the research life of the faculty.
The faculty include three departments:

Departments of Marketing, Logistics and Pricing Policy, Industrial Marketing and Communications, are graduating departments. The scientific interests of the departments cover the areas of advertising and integrated marketing communications, logistics and purchasing, green economy, marketing research, pricing.
Specialties
Students are trained in three specialties:
"Marketing", graduates are qualified as "marketer-economist";
"Logistics", graduates are qualified as " logistician-economist";
"Advertising, graduates are qualified as "advertising specialist".
Within the specialties "Logistics" and "Advertising" there are no specializations.
Within the specialty "Marketing" teaching is conducted in the following specializations:
Marketing (without specialization);
International marketing;
Industrial marketing;
Pricing.
Teaching at the faculty is conducted on full-time, part-time, part-time shortened (after the specialized college) forms of higher education.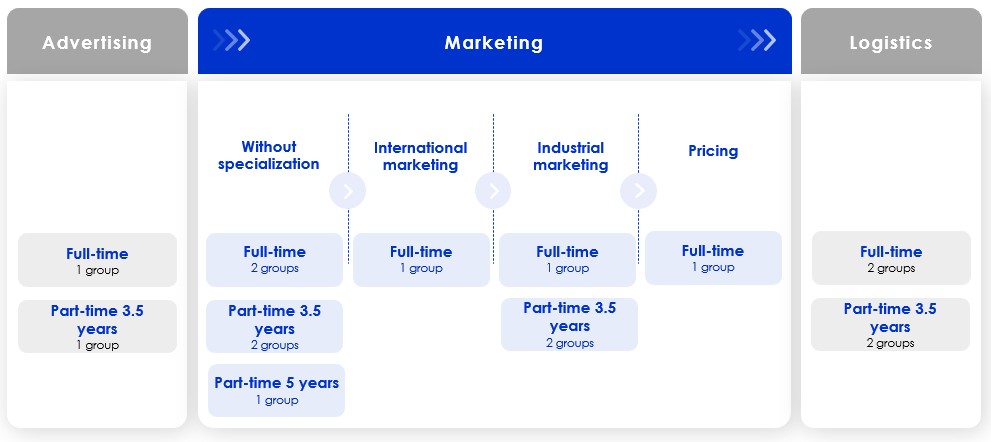 Future career
Marketing (without specialization);
During the education the students of the specialty study a number of economic - "Statistics", "Econometrics", "World Economy" and special - "International Marketing", "Integrated Marketing Communications", "Marketing Research and Analytics", "Internet Marketing", "Strategic Marketing" disciplines, which form professional skills and competencies in this field; they learn to forecast the sales volume of goods and services, to develop creative advertising campaigns, to work out effective ways to stimulate sales, to use Internet marketing tools, to justify prices for goods and services, and provide service support for goods.
Graduates of the specialty "Marketing" work in specialized marketing organizations that provide marketing consulting services, marketing research services, development of marketing plans, preparation and support of advertising campaigns, branding agencies, event agencies, SMM-agencies, marketing and advertising departments of organizations.
International marketing
Specialization provides training of specialists who know well the features of world markets, economics of joint and foreign enterprises, international law, intercultural communication, foreign languages. Ministries and departments, joint and foreign organizations, foreign economic and foreign trade departments of organizations, organizations and enterprises developing foreign relations, actively engaged in export, studying new markets, establishing new sales channels abroad need such specialists.
The curriculum of the specialization includes such disciplines as "International Marketing Management", "Intercultural Communications", "Consumer Behavior and Pricing Policy in Foreign Markets".
Graduates of this specialization work in international companies, representative offices of foreign companies in Belarus, Belarusian companies that are focused on the development of export potential and Belarusian companies that conduct research and service foreign markets, implement global marketing and communication strategies.

Industrial marketing (intercompany marketing)
Training in the specialty "Industrial marketing" implies an in-depth study of the features of marketing in the enterprise market. The main difference between industrial marketing and consumer marketing is that marketers of this profile interact not with the final consumers (people), but with organizations that purchase goods and services for production needs or to carry out trade and intermediary activities.
Specialists in intercompany marketing know well the features of sales and purchases of industrial goods (raw materials, components, machinery and equipment). In this area, not only the sales but also the purchases of goods are conducted on a professional basis.
The curriculum of specialization, along with the general economic and marketing disciplines, includes the study of a number of specialized disciplines in the modules "Marketing tools of commodity markets", "Marketing in industries and spheres of activity", "Technologies of purchasing activity".
Graduates who have completed this specialization work in the marketing, sales (distribution), purchasing, logistics, organizations and enterprises of industrial, commercial and non-productive spheres. Including organizations of wholesale trade, leasing companies, foreign trade organizations and trading houses.
Pricing
The curriculum for this major provides a good background in marketing as well as a more thorough knowledge of economics, finance, pricing, and cost management. In addition to general marketing tasks, marketing pricing specialists are involved in planning a company's pricing strategies and tactics, developing and justifying loyalty and price incentive programs. Students study a number of specialized disciplines within the modules "Price Formation in Domestic and Foreign Markets", "Pricing Policy and Justification of Pricing Decisions".
Graduates who have graduated this specialization are in demand not only in the marketing departments and services of enterprises, specialized marketing agencies, but also in the structure of ministries, institutions and agencies responsible for developing pricing policy and monitoring the correctness of its implementation.  
Logistics
Graduates of the faculty of specialty "LOGISTICS" are able to provide practical implementation of the concept of management of material, information and financial flows, aimed at improving the efficiency of both the entire enterprise and its individual structural units.
The activity of a specialist in the field of logistics is multifaceted. It includes the management of material flows at all stages of product promotion from producer to consumer, including the production process itself.
Logistics specialists are called upon to: make material and information flows more rational; implement optimal schemes of cargo transportation; eliminate unnecessary links in the commodity supply chain; rationalize material supplies; reduce queues, accelerate customs clearance of cargo, simplify the paperwork. During their studies, students study such disciplines as "Logistics and Supply Chain Management", "Inventory Management", "Industrial and Purchasing Logistics", "Information Technologies and Systems in Logistics".
Graduates from this specialty work in logistics, sales (distribution), procurement, transport support, industrial and technical departments, as well as in dispatch and forwarding services, customs clearance services, specialized logistics centers.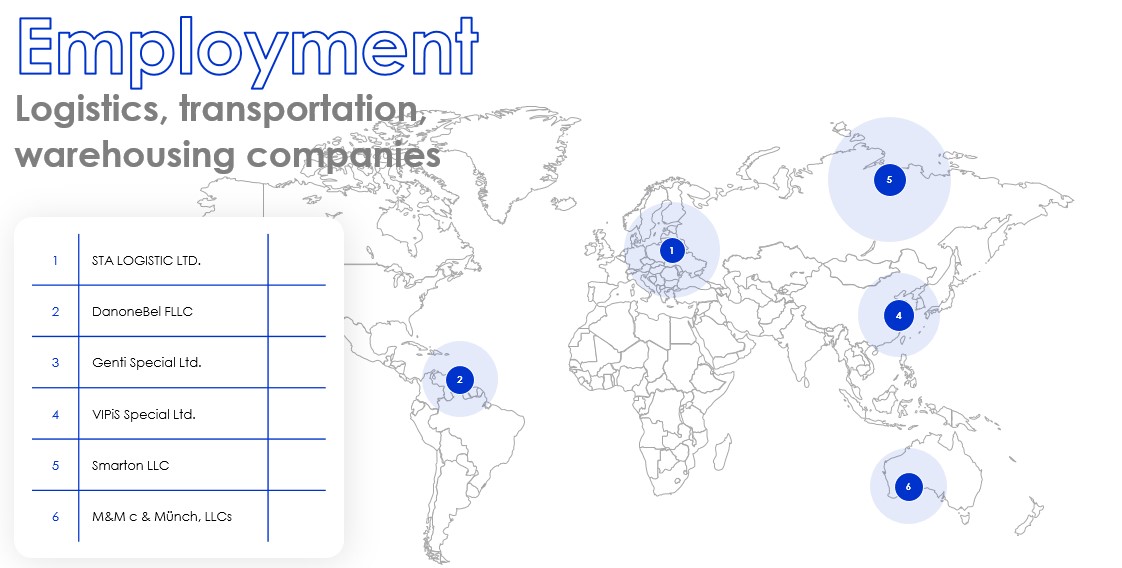 Advertising
Graduates of the specialty work as managers in organizations with advertising services, as well as in advertising and event agencies, branding agencies, advertising and publishing organizations, radio and television.
Advertising specialists receive not only general education in marketing but also special knowledge in modern advertising technologies, management in advertising, design, Internet advertising tools, basics of public relations, rules of composing advertising texts, and learn to work with computer graphics editors. Students mastering the specialty study such disciplines as «Marketing», «Theory of Advertising», «Research in Advertising», «Innovation and Creativity in Advertising», «Advertising Production Technologies», learn how to make media plans, develop advertising concepts, and manage advertising products and channels.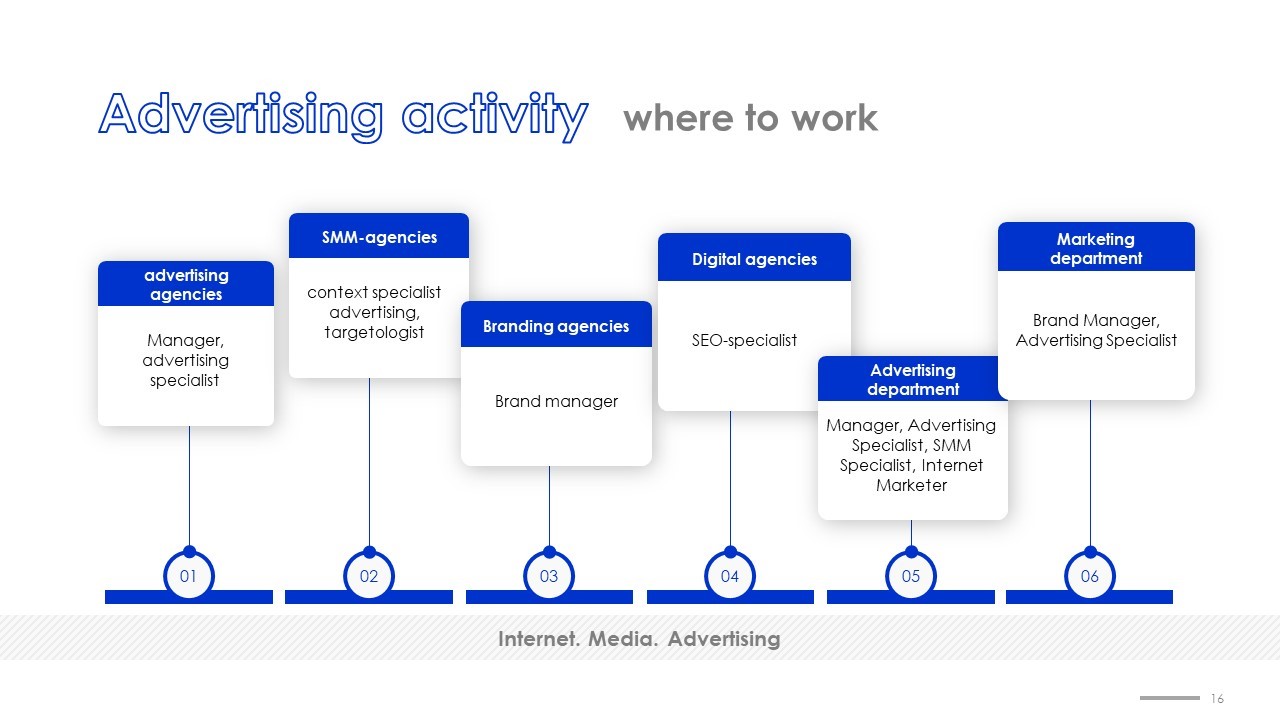 SCIENTIFIC ACTIVITIES AND PERSONNEL POTENTIA
Since the formation of the faculty in the educational process used modern tools and teaching technology, implemented a rating system for evaluating students' knowledge, developed and improved corporate identity and symbols of the faculty.
Faculty teaching staff are actively involved in research and contractual work in such areas as:
relationship marketing;
digital marketing;
international marketing;
marketing communications;
marketing management;
services marketing;
advertising campaign management;
marketing communications of organizations;
management of procurement and sales activities of enterprises;
product range management;
psychology and behavior of buyers;
research of commodity markets;
marketing of innovative enterprise.
formation and development of logistics supply chains;
assessment of logistics potential in integrated supply chains;
classification and relationship of decision-making levels in supply chain management;
development and justification of the procurement system;- justification of warehouse inventory.
Over the past 3 years, professors, graduate students and doctoral students of the faculty have published more than 50 textbooks and teaching aids, more than 300 scientific articles in the field of logistics, pricing, marketing, marketing communications. Teaching staff of the faculty took part in more than 50 scientific and practical conferences, business forums and festivals held in the Republic of Belarus and abroad.
Since 2021, the Faculty conducts an annual study of the state of marketing and the prospects of its development in the Republic of Belarus, in 2022 for the first time the study was conducted in the field of Belarusian logistics. The results of these studies, along with the reports on the annual industry research are published on the faculty website fmk.bseu.by.
The departments of the faculty are in constant contact with representatives of the professional community, are working on the establishment of interaction with various enterprises and organizations of the real sector. The Department of Marketing signed agreements on cooperation and organized branches with Coca-Cola Beverages Belarus, JSC "MMZ named after S.I. Vavilov - the managing company of the holding BelOMO", JSC "Institute BELORGSTANKINPROM. Department of logistics and pricing policy for 5 years successfully cooperates with LLC "OMA". Department of Industrial Marketing and Communications implements cooperation agreements with LLC "Webcom Group", LLC "SJM", LLC "Maxi Bai Media", LLC "Belinvesttorg", LLC "Synergy", opened a branch office at CJSC "Minsk Soft Drinks Plant" and in 2021 at the NC "Association of Advertising Organizations of the Republic of Belarus".

To improve the level of qualification and master modern methods of teaching the disciplines, each year the department staff take advanced training courses and professional courses in the field of marketing and logistics. In 2021, 17 employees took these courses and participated in professional educational programs, for the last 5 years 72 times the teaching staff of the departments had advanced training in various fields, including methods of teaching in English. Thanks to the constant development and increase of staff potential in 2022 the faculty was able to start the implementation of double degree programs, training documents for the specialty "Marketing" (International Marketing) for the training of students in English, in 2021 was realized the training of master students in the specialty "Marketing in English" (profile "International Marketing").

The management of the faculty maintains business ties with the heads of major organizations and enterprises of the republic, where students do an internship. The faculty has created favorable conditions for students to participate in sports, amateur art, and hobby groups. All this creates a favorable basis for high-quality training of specialists.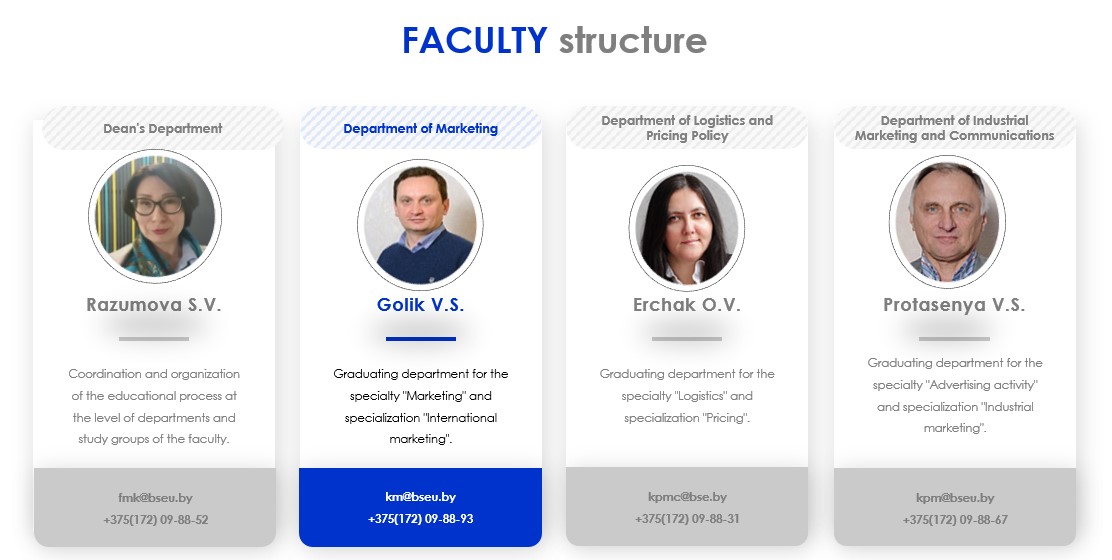 Our talented graduates - professionals in marketing, advertising and logistics - work in many domestic organizations, making a significant contribution to the formation and development of the new shape of the Belarusian economy.