The Department of the German Language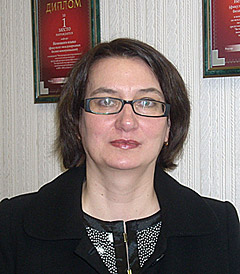 Chair of the department:
Associate Prof. Valentina A. Shevtsova
The Chair of the department is Associate Prof. Valentina A. Shevtsova.
The department was established on December 1, 2003. The teaching staff comprises 28 members: 10 instructors, 16 senior instructors, 2 associate professors and 4 PhDs.
The teaching staff of the department gives classes for full- and part-time students at all University Schools, Master's and doctoral students and students at the German language courses.
The department faculty carry out scientific work on the following theme: "Cross-cultural economic discourse in the German language teaching methods". Besides, they maintain efficient contacts with the Eastern European Centre of Robert Bosh Foundation, the German Academic Exchange Service (DAAD), the Linguistic Centre of Westfalian Wilhelms-University (city of Munster, Germany).
The German language teachers render assistance to the students in obtaining grants in the framework of international educational projects. In October 2006 the department assisted to organize a 2-week introductory practical course in Germany for students of the School of Marketing and the Higher School of Tourism.
Together with the Linguistic Centre of Westfalian Wilhelms-University the department organizes the DSH examination (the German language aptitude qualifying examination, advanced level). After passing the exam, students get a certificate of the University of Munster. Training for the exam includes short and long-term courses where students may improve their general knowledge of German as well as develop their skills in particular language aspects.
On February 1, 2008 the department organized a "round-table" discussion on "Cross-cultural Relations Experience: Application Opportunities" within the II International scientific and practical conference "Communication Technologies in the System of Present-day Economic Relations". They invited ex-scholarship winners of the DAAD, BSEU Pro-rector on Academic Affairs Oleg Sosnovski, the Head of the Minsk Office of the DAAD Dr. Michael Klees, and Dr. Wilhelm Grie?haber, Professor of the Linguistic Centre of Westfalen Wilhelms University of Munster, as well as teachers of German from BSEU and other higher educational establishments of Belarus to take part in the discussion. They exchanged their professional experience on the theme and touched upon the issues of maintaining contacts with allumni.
Every year the department organizes a German section within the Students' scientific conference. Both BSEU students and students from other higher educational establishments of Belarus are invited to participate. The theme of the recent conference (18.05.2007) was " the World in XXI century: economic, political and socio-cultural aspects". At the conference 7 sections had their sessions in German, where there were represented 90 student reports. Each section awarded 3 prize-winning places, the reports were published.
The most important scientific works and manuals authored by the department staff are: