The Department of Materials Physics and Chemistry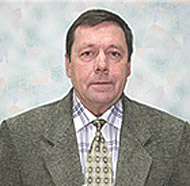 Chair of the Department:
Dr. hab., Prof. Nikolai P. Matveyko
The Chair of the Department is Dr. hab., Prof. Nikolai P. Matveyko.
The Department was established in May 2007 through reorganization of the d epartments of Merchandise of Foodstuff and of Merchandise of Non-Foods in order to improve the quality of training specialists in merchandising and goods expert examination.
The department comprises 6 lecturers and 2 assistants including 1 Dr. in chemistry, professor, 4 PhDs, associate professors, and 1 assistant lecturer.
The department delivers lectures and gives classes in basic technical disciplines:
Chemistry;
Physics;
Basics of Material Science;
Methodology of s cientific Research;
Research Methods and Tools;
Radiation Control;
Sensory and Instrumental Investigation Methods;
Manufacturing Technologies;
Qualimetry and Quality Management;
Standardization and Conformance Evaluation;
The department's scientific research focuses on defining characteristics of materials, products and goods by physical and chemical methods as well as developing methods of defining product safety indicators.
The department maintains active contacts with several departments of Belarusian State Technological University and Belarusian State University , the Institute of Inorganic Chemistry of the National Academy of Sciences of the Republic of Belarus , the Department of Electrochemistry of M.V. Lomonosov Moscow State University, the Department of Chemistry of Tula State University and Gosstandard of the Republic of Belarus.