1.06.2023
Round table "Development of scientific and educational cooperation between the EAEU countries"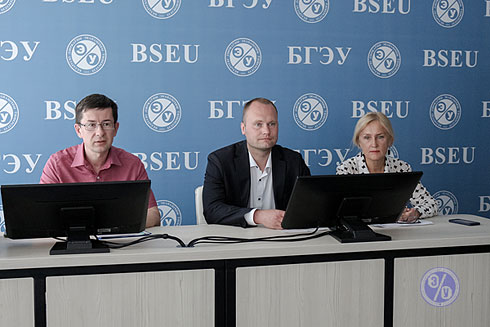 On the Day of the Eurasian Economic Union, the Belarusian State Economic University hosted a round table "Development of scientific and educational cooperation between the EAEU countries". It was organized by two departments of BSEU: world economy and international business. On May 29, the round table brought together participants from a number of EAEU countries, as well as China. The moderators of the meeting were the head of the Department of World Economy Alexander Leonidovich YANCHUK and the head of the Department of International Business Galina Vladimirovna TURBAN.
BSEU Vice-Rector for Research Egor Vladimirovich Gusakov delivered a welcoming speech at the opening of the round table, emphasizing the particular relevance of the topic under discussion and the university's interest in scientific and educational cooperation with the EAEU countries. The topic of the significance of the processes of expanding the boundaries of scientific and educational cooperation was developed in her speech by Doctor of Economics, Executive Director of the Center for the Study of the CIS of Dalian Polytechnic University GO SHUHUN. She noted the results of long-term and fruitful cooperation between Dalian Polytechnic University and BSEU, a special role in establishing international cooperation between universities on the part of Galina Vladimirovna TURBAN. In turn, Galina Vladimirovna made a report on the topic "Economic situation and development of foreign economic relations of the EAEU countries with China", where she described the current state of interaction between various EAEU countries and their interaction with China. The representative of the Russian State University for the Humanities, Candidate of Economic Sciences, Associate Professor Petr Alexandrovich KOSTROMIN also took part in the round table. In his report, he shared his vision of the role and features of the development of the creative economy in the EAEU countries. Another participant of the round table was an expert from the Department of Trade and Integration of the Ministry of Economy of Armenia - Karen Bagratovich MURADYAN. In his speech, he noted the dynamically growing pace of interaction between the Republic of Armenia and other EAEU countries and announced the agreements reached between the EAEU countries on the mutual recognition of diplomas. Another opportunity to expand the geography of scientific and educational cooperation for BSEU was presented by Natalia Vitalievna MOROZOVA, Dean of the Faculty of Economics of the Chuvash State University. I.N. Ulyanov.
More than 30 people took part in the event: foreign participants who joined the discussion via video link, the faculty of the departments of world economy and international business, as well as students of the FIEO. BSEU expresses its gratitude to the participants, hopes for new meetings and the dynamic development of further scientific and educational cooperation!
Other news