Faculty of Retraining "Consulttorgcenter"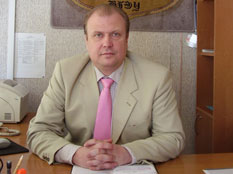 Dean:
Dmitryi Tsyhankou
Ph.D. in Law
associate professor
Dean of Faculty Dmitryi Tsyhankou, PhD in law, associate professor.
Special Faculty of Retraining of Personnel With Higher Education «Consulttorgcenter BSEU» created by order of the University rector from 29.07.1999 № 349-17.
According to the order of the University rector from 24.07.2006 № 533-А special faculty «Consulttorgcenter BSEU» included in the Institute of Advanced Training and Retraining of Economic Personnel of Belarusian State Economic University included in the structure as an educational and administrative unit – Faculty of Retraining «Consulttorgcenter».
The Faculty carries out its activities in accordance with the legislation on the basis of contracts concluded with state bodies, firms and individuals.
The Faculty trains people with higher education and senior students. Education at the faculty is paid, the form of education by correspondence.
After graduation, a diploma issued and qualification in the relevant specialty are awarded.
The educational process at the Faculty is provided by the departments of the University. The structure of the Faculty includes the Department of Business Economics and Law.