The Department of Romanic Languages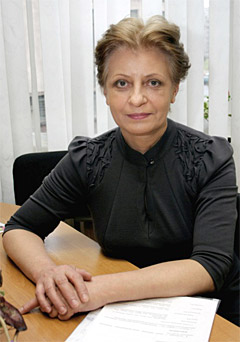 Chair of the department:
PhD, Associate Prof. Victoria A. Vajahina
The department was established in December 2003 as a structural subdivision of the School of Linguistic Studies (now the School of International Business Communication ). It includes Spanish and French sections. The Chair of the department is PhD, Associate Prof. Victoria A. Vajahina.
The d epartment faculty comprises 30 members including the Chair, 1 professor, 2 associate professors, 12 senior instructors, 12 instructors and 2 secretaries.
The department staff give classes for part- and full-time students at all University Schools, for Master's and doctoral students and students of the School of Pre-University Training. They aim at providing students with communication skills both for everyday life and professional sphere, and necessary knowledge of cultural, social, economic and political aspects of the country which language they study.
The department teaching teach Linguistic Country Study, Languages for Business Purposes, Languages for Professional Purposes, Practical Course on Communication Culture, Communicative Grammar etc. Much attention is paid to free communication and practical skills of translation in professional sphere. The teaching process incorporates the use of audio and video matters, multimedia educational programs, Belarusian and foreign educational complexes. Moreover, the department faculty are developing manuals and study guides of their own.
To involve students into scientific research the department annually organizes students' conferences in foreign languages on economic, social and social and political topics. The best reports are published in the Students' Collected Works.
The department faculty are doing now the research of peculiarities in cross-cultural communication in teaching various speech activities in foreign language. They take active part both in international conferences on the issues of foreign languages teaching and in international projects.
The department staff are constantly improving their professional skills through regular courses of advanced training and professional development at various higher educational establishments in the Republic of Belarus . Many of them take advanced training courses abroad.
The department maintains active contacts with other higher educational establishments of Belarus , such as the French and Spanish Language Schools of Minsk State Linguistic University.
The manuals and study guides authored by the department faculty are: