Pre-University Department
Established in 1992, the Pre-university department is aimed for foreign citizens who intend to continue studies at BSEU or other Universities of Belarus as undergraduate, master, or doctoral students.
The training process is carried out by highly professional teachers from the Department of Belarusian and Russian languages who have gained great experience in teaching Russian as a foreign language. Classes are held with the use of txt books and teaching materials specially prepared for international students. The Department has a language laboratory equipped with video systems to show educational and feature films. Students are offered specialized computer class rooms with training and check-up programs for Russian as a foreign language.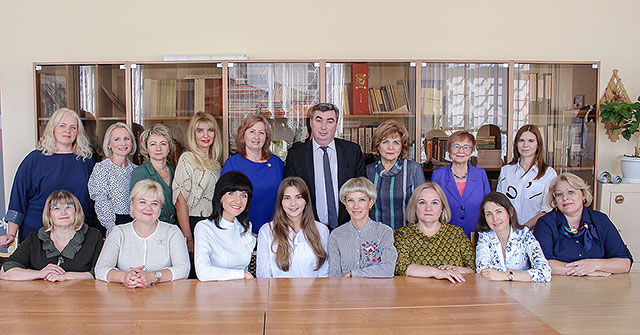 Students are trained in groups between 8 and 12 persons. To improve the quality of the educational process, the Dean's Office manages cooperation with the Departments of Higher mathematics and Economic Theories.
During the past years the Pre-university department has accumulated a wealth of experience in the teaching of Russian language to foreigners. This experience is reflected in the textbooks and course materials utilized in the classroom. Most of these materials were prepared by Russian teachers for foreigners. All our teachers are fully qualified and experienced in teaching Russian as a foreign language to provide the opportunity for foreign students to meet the University's entry requirements.
In class teaching methods are augmented by various audio-visual aids available to students of the Pre-university department – these include a number of language labs with an extensive collection of audio tapes, and classrooms equipped with video systems for viewing educational and feature films. Special study rooms are equipped with computers and Russian training and controlling programmes.
Upon request pre-university students are provided with accommodation in a comfortable student hostel for the entire period of studies. Accommodation in the hostel is to be paid monthly (about 40-50 US dollars), its cost is not included in the tuition fee.
The Dean's Office and the Department of General Education Disciplines of the Faculty of Pre-University Preparation offer pre-university students excursions to historic places in Belarus, visiting Minsk theatres and museums. For out-of-studies activities for international students please refer to page Living and Leisure Conditions for International Students.
Pre-university students are trained on a contract basis. The tuition fee is established by the Rector's order for the academic year and can be paid in two stages.
The term of studies is 10 months (September to June). Upon completing the course students who successfully took graduation examinations are granted with a standard certificate that allows them to be enrolled to a selected School at BSEU or any other higher educational institution in the Republic of Belarus.
For more details please refer to Admission Procedure for international students.
Pre-University Department

| Type of training | Tuition fee, US dollars per year |
| --- | --- |
| Profile economic | 2100 |
Tuition fee is to be paid in US dollars in two shifts (50% each)
1st shift – by September 15, for applicants after 15 September - within 5 days from the date of the study agreement.
2nd shift – from February 1 till March 1