The Department of Information Technologies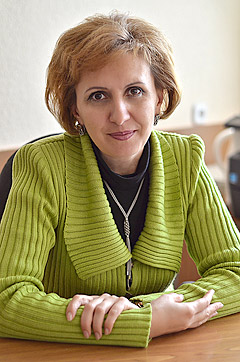 Chair of the Department :
PhD, Associate Prof. Marina N. Sadovskaya
The Chair of the Department is PhD, Associate Prof. Marina N. Sadovskaya. The Deputy is PhD, Associate Prof. Natalya G. Tokarevskaya.
The department's faculty provides training for both full- and part-time students at all university's schools. They also deliver classes for students of the Higher School of Management and Business, master's and doctoral students.
The department faculty
Conferences and scientific seminars
At present, the department faculty delivers lectures and practical classes in the following disciplines:
Computer Information Technologies (1- and 2-year students);
Basics of Information Technologies (postgraduate students);
Technologies of Data Organization, Storage and Processing;
Computer Information Technologies;
Database and Knowledge Technologies;
Legal Information Science;
Basics of Higher Mathematics and Information Science;
Information Science and Computer Facilities;
System Programming;
Object-oriented Programming;
Corporate Information Systems;
Systems of Database Management;
Automated Systems of Document Flow Management;
Automated Systems of Non-cash Payment;
Automation of Non-cash Payment;
Basics of Automated Control Systems and Automated Work Stations Development;
Information Technologies in Tourism;
Information Technologies in Hotel and Restaurant Business;
Information Technologies in Merchandizing and Expertise;
Telecommunication and Computer Technologies in Business;
Commercial Activity Information Support.
The department provides a doctoral course in specialty 08.00.13, Mathematical and Instrumental Methods of Economics, and master's course in specialty 1-25 80 08, Mathematical and Instrumental Methods of Economics. Much attention is paid to scientific research in mathematical and instrumental support of economics in the following fields:
information recourses and network technologies of obtaining knowledge in educational and business activities;
theory and practice of developing information technologies in banking;
models and methods of estimating corporate information system operation.
The department holds a permanent scientific seminar to discuss the results of their research.
Students' research activities are of great importance, too. They are involved in exploring projects financed both from the state budget and by commercial entities. Results are presented in their scientific papers, theses and articles. Besides, they take part in scientific conferences organized by the department and the university, in Belarus and abroad. Among the most popular conferences one should mention the annual Interuniversity scientific students' conference "Modern Computer Information Technologies".
The department maintains active contacts with scientific centres in Belarus (Belarusian State University, the National Academy of Sciences of the Republic of Belarus, Belarusian State Technological University, Belarusian State University of Informatics and Radioelectronics, etc.). Moreover, they maintain international contacts with the University of Zilina , commercial companies, organizations and banks.
| | |
| --- | --- |
| | Àäðåñ: 26 Partizanski prosp ., Bldg 2, Rooms 307, 310, 312 |
| | Phone/fax +375 17 209-78-32 - department |
| | E-mail: sedun@bseu.by |